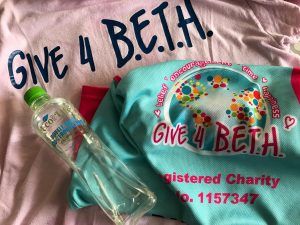 Give 4 B.E.T.H Founder & Chairman Rich Sherwell along with charity supporter Barry McCoy are raising money for both Give 4 B.E.T.H. and the Riding for The Disabled Association (RDA). Their aim is to raise £20,000 to help local disabled children and their families to achieve life changing dreams, whatever they may be.
Both Rich and Barry have run the London Marathon in previous years and that in itself was a huge challenge to achieve. However, they wanted to set the bar even higher and take on a challenge that would really push their stamina and fitness to the limits. In August of 2016 their 'On Course' challenge was born.
In August 2017 the two of them will attempt to run 200 miles in just 7 days by running from winning post to winning post at 57 UK horse racing courses. The challenge will see them run more than a marathon every day by running between 7 & 10 racecourses, as well as travelling in between venues. Every racecourse will present its very own challenge as they vary so much and there are very few that are flat.
We are delighted to be supporting them with our Eco for Life bottled water to help them stay hydrated throughout their training and this entire event.
This is going to be such a fun and challenging event for them both and for everyone who will be following their journey. In the coming months we're sure it will continue to gain a lot of interest from all areas and hopefully lots of donations too for such wonderful causes.
You too can get involved in the challenge in a variety of ways. Along with donations towards their £20,000 target, Rich and Barry are also looking for raffle prizes that will be used in a special Time Raffle and also business sponsorship. They have 4 tiers of sponsorship package available ranging from £250 – £1000. For more details about these you can contact the charity at info@give4beth.co.uk
Why not follow the build up to this amazing challenge and give their social media pages a 'Like'. They will certainly need all of our support for this epic 200 mile challenge in just 7 Days! For all the progress and training updates on the event visit them on Facebook at  Give4BETH or Twitter at Give4BETH or by visiting their website www.give4beth.co.uk